I thought I'd write a simple guide about growing leather using kombucha scoby's. First off, it's called many different things (some people don't like the name "leather" because it should only refer to animal hides) but I've settled on calling it bacterial leather.
I based it on the work of many people before me! You can read more at the bottom of the guide. Feel free to share, remix and add to it! Just attribute people for their work appropriately

This work is licensed under a Creative Commons Attribution-ShareAlike 4.0 International License.
Content
---
1. Introduction
What's the difference with real leather? Real leather consists of collagen, which is a structural compound found in animal cells (humans too!). The bacterial leather you can grow with this guide, consists of cellulose, which is a structural compound mainly found in plants.
There's more differences, like not having to grow a whole cow for your leather and the environmental impact that goes with it. Bacteria grow much faster. One of the fastest growing bacteria, Vibrio natriegens, grows so fast that, in ideal conditions and left to its own, one cell would divide and engulf the whole earth in the course of 24 hours.
Grey goo? Biology was first
Anyway… In this guide we use kombucha, which is well known as an increasingly popular drink. Kombucha is a liquid that's fermented using a mix of yeast and bacteria, which all perform a specific function to make the drink taste good, all in perfect harmony with each other (if conditions are right). This mutually beneficial culture is called a SCOBY: Symbiotic Culture Of Bacteria and Yeast.
A by-product of fermenting kombucha is a thick layer that grows on the surface. Since kombucha is grown in round bottles or reactors, this layer is often round in shape.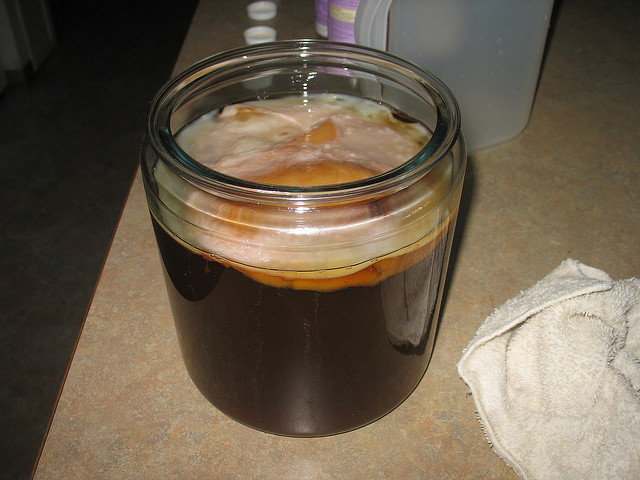 Credit: Scott Schumacher
This is usually called a "mother" because you can transfarit to a new jar and it will serve as a starting culture to make the new liquid ferment. We talked about cellulose and that's what this mother is: cellulose fibres arranged randomly entangled. That's what gives it strength. The SCOBY produces this cellulose "home" to protect itself: the bacteria and yeast that are inside the mother, inbeteen the cellulose fibres will be less affected by dry circumstances or infections from outside.
There usually is only one bacteria in the SCOBY mix that produces the cellulose in the mother. Acetobacter xylinum is one of the possible ones (there's others). So while fermentation is mainly done by the yeast in the mix, the cellulose protective layer comes from the bacteria. A beautiful story of collaboration
2. List of materials
List of materials for one liter of culture. You'll need to re-calculate depending on how many liters you need. Read about that below before you start buying things:
Water: 1 L (tap water will do)
Tea: 15 g (about 10 teabags, but preferably bulk tea for ecological reasons)
Sugar: 100 g
Cider vinegar: 100 ml (or liquid from a previous batch)
Starter: 100 ml (this is liquid from a previous batch of kombucha) or a mother
Some rubbing alcohol (70°) to desinfect (optional but will have higher success rate)
1 kitchen scale: to weigh ingredients
1 saucepan with lid: to boil the liquid
1 hot plate: for heating
1 tea ball: to brew tea (skip if you use bags)
1 timer: to measure 30 min
1 spoon or whisk: to dilute the sugar
1 container: plastic or glass but not metal (it would kill the bacteria). Shape and size depending on the sheet you want to grow.
1 cloth: to protect the culture culture tank (your container)
Clothespins to attach the cloth to your container
A wooden board a bit bigger than the sheet you'll grow. No mdf or other materials that absorb water fast!
So, first thing to determine is how big and what shape your sheet should be. If you want a rectangular sheet of 60 x 40 cm, then you'll need a rectangular bin of 60 x 40 cm. See me being happy with one below.
Happy leather farmer. Photo: Oğulcan Dülger
And then you'll need to calculate how much volume of liquid you need (how many liters) and then calculate the ingredients. Open BioFabrics has a great cheat sheet.
Recipe cheat sheet. Photo: Open Biofabrics.
3. Growing a sheet of leather
3.1 Preparing the liquid
Step 1: boil water. This is straightforward: put your cooking pot with all your water on the hot plate and bring it to a boil.
Step 2: Let the tea infuse for about 15 minutes. Having a tea egg or using bags makes it really easy to take the tea out. You can also leave the tea leaves inside, but then you might have dark spots on your leather sheets afterwards (this is a small aesthetic detail for those who care)
Step 3: Dilute all the sugar. We're adding quite a lot of sugar (about 100 g per liter), which makes dilution harder. Luckily, the water is hot so it goes faster. It will take a while, stirring helps.
Note: you can combine or switch around step 2 and 3. The main thing is that the whole brew with everything in it needs to boil for about 20-30 minutes
Step 4: let it boil for about 20-30 minutes with the lid on.
Step 5: let the liquid cool down to about 30°C. This is important: higher temperatures risk killing the SCOBY when you add it. Leave the lid on to keep nasties outside!
3.2 Starting the growth
Make sure your liquid is below 30 °C. Make sure the container you grow your leather in is cleaned well! And do these steps without pauzing, since you don't want to expose your liquid to the air for too long. This is to avoid infections.
Step 6 (optional): clean out your container with rubbing alcohol. Spray some on every inside surface of the container and rub it in with a piece of kitchen paper or toilet paper.
Step 7: pour the tea/sugar liquid into the container and add the SCOBY and/or starter liquid.
Step 8: cover the container with your cloth. Make sure the cloth doesn't touch the liquid. Make sure there are no holes where eg. flies can come in. Your growth liquid is very appealing to fruit flies and the like, so you will have them if you don't take care.
3.3 Growth
Step 9: put your container (probably hard to move without wetting the cloth, so be careful) in the dark and at around 25°C. Room temperature also works, but growth will be slower. You can also cover your container with a box or a jacket to make it dark. The SCOBY doesn't like light, so it would not not grow as well.
Freshly grown sheet. Photo: Elise Elsacker.
Step 10: wait for about 1-2 weeks, depending on how thick you want your sheet of leather to be. Check on it sometimes to see growth and also to massage bubbles that may form under your sheet. You'll see (especially if using a dark tea) lighter areas under the sheet (or even the whole sheet will look lighter).
Bubbles under the sheet. Photo: Ravi Bellardi
These are bubbles of CO2 trapped under the sheet from fermentation. These normally make the kombucha bubbly. But here, the bubbles under the sheet will push the sheet up from the liquid, so that no more cellulose is produced there and you get thinner areas in your final sheet. How to prevent these?
Clean your hands with soap (or even desinfection gel or alcohol). Remove the cloth from your container. Then gently massage the bubbles to the edge of the sheet to push them out. You'll see bubbles and foam come out. Be careful that you don't push the sheet under or let too much liquid stream on top of the sheet. This may make the material sink, and then it won't get thicker: cellulose will keep growing on top of your liquid, but your sheet is no longer there! So you'll get a second, smaller sheet.
Tap gently to remove bubbles. Photo: Elise Elsacker.
3.4 Harvest and dry
It's good to know that your final sheet of leather will shrink quite a bit: 10x to 15x times. So if you have a specific thickness of leather in mind, knowing when to stop growth will come from experience.
Good to know beforehand: if you harvest after about 2 weeks, you can just leave the same liquid to continue growing and it will make another sheet. If you want to do that, wash your hands before the next step and close your container with the cloth again asap!
Step 11: remove the cloth and take out upper sheet of wet scoby. Rinse it and wash it with soap in the sink.
Pro-tip: let your liquid grow again or save it to start your next batch.
Rinse with water and soap. Photo: Elise Elsacker.
Step 12: let your sheet dry on a wooden board. It will take a day or a few days depending on the temperature. Don't dry it at too high a temperature, or the sheet will shrink in wrinkled way. To make sure your sheet does not stick to the board, turn it around at least once per day. This will also make the drying process more homogenous.
Tip: don't use a plank that absorbs a lot of water. Eg. MDF will suck al the moisture from the sheet, and it will stick to the board so hard it will rip when removing it.
Drying on a plank. Photo: Elise Elsacker
Step 13: when the sheet feels dry and doesn't smell so much like vinegar anymore, it's done. Congratulations!
Wet and dry sheet. Photo: Elise Elsacker.
Liked it and want to get in touch? E-mail me at winnie@glimps.bio
If you have technical questions, please post them on the forum (if you ping me I reply
)
Things this guide was based on:
BioCouture: pioneering the use of scoby's as textile
Open BioFabrics: their guide got me going with this and some content comes from them
Input from @niekd , @Elise , @LynnJosephy , @Littlepinkmaker and others in the community!

This work is licensed under a Creative Commons Attribution-ShareAlike 4.0 International License.